Doria Johnson
Herbalife Independent Member
SL & DV Consultants
9A Scott Road , Papakura
Auckland Auckland 2110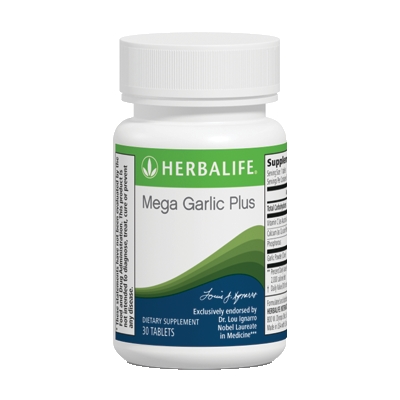 Mega Garlic Plus
A high-quality garlic supplement for overall good health.*
Maintaining a healthy heart is important to keeping a fit and active lifestyle. Mega Garlic Plus supports circulation and cardiovascular health, releasing active ingredients once through the stomach for full absorption.*
Mega Garlic Plus is enteric-coated for absorption where you need it, and provides anti-oxidant protection for your body.*
Supports healthy circulation and heart health.*
Each tablet supplies the powerful benefits of one whole garlic clove.*
Take one tablet per day with a meal.
Garlic provides support for maintaining healthy LDL cholesterol and triglyceride levels that are already within a normal range.*
Garlic supports and enhances your body's immune function.*
In tablet form.

View Product Label

*These statements have not been evaluated by the Food and Drug Administration. This product is not intended to diagnose, treat, cure or prevent any disease.
Other products you might like