Doria Johnson
Herbalife Independent Member
SL & DV Consultants
9A Scott Road , Papakura
Auckland Auckland 2110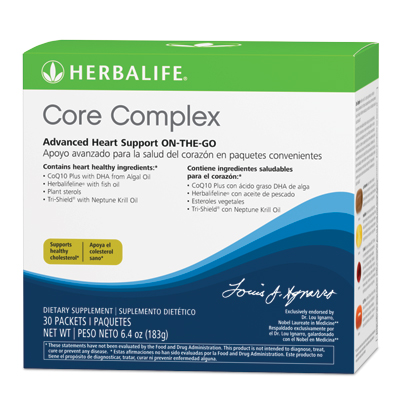 Core Complex with CoQ10 Plus
Put the power of heart health in your hands.
Target the four key indicators of heart health: cholesterol, triglycerides, homocysteine and oxidative stress.*
Each packette contains 2 brown softgels of plant sterols and B Vitamins; 1 CoQ10 Plus softgel; 1 burgundy Tri-Shield® softgel with 100% pure Neptune Krill Oil (NKO®†); and 2 gold Herbalifeline® fish oil softgels with Omega-3 fatty acids.
Maintains healthy cholesterol and triglyceride levels already within a normal range*
Provides antioxidant protection*
Provides energy to heart cells*
Contains B Vitamins help to maintain healthy homocysteine levels that are already within a normal range*
Take 1 packette per day with a meal and set aside 1 brown plant sterols softgel for consumption with a later meal.
Convenient daily packettes contain 6 softgels, including Herbalifeline®, Tri-Shield® and CoQ10 Plus
Supports healthy heart and blood vessel function*
Maintains healthy homocysteine levels already within a normal range*
In softgel form

View Product Label
Other products you might like