Doria Johnson
Herbalife Independent Member
SL & DV Consultants
9A Scott Road , Papakura
Auckland Auckland 2110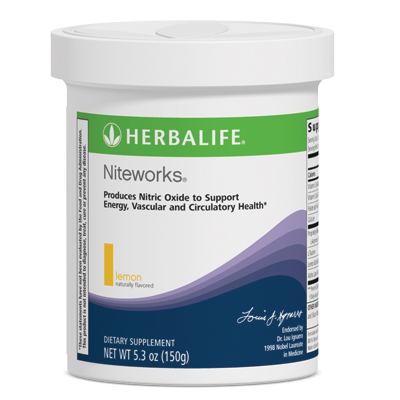 Niteworks® Powder Mix
Produces nitric oxide to support energy, vascular and circulatory health.*
This refreshing, lemon-flavored mix supports energy, circulatory and vascular health and helps with Nitric Oxide (NO) production at night when NO levels are lowest.*
Developed with Nobel† Laureate in Medicine Dr. Lou Ignarro,‡ Niteworks® supports your body's ability to produce Nitric Oxide (NO), for improved circulatory, immune and nervous system functions.
Supports blood flow, for the healthy function of the heart, brain and other organs.*
Helps keep blood vessels toned, flexible and youthful for improved circulation.*
Supports healthy blood pressure levels already within a normal range.*
Mix two scoops (2 teaspoons or about 10 g) in 8 oz of cold water. May also be mixed with sparkling water or juice. Drink at night or before bedtime.
Includes the amino acids L-arginine and L-citrulline to support Nitric Oxide (NO) production.*
Vitamins C and E, as well as alpha-lipoic acid, provide antioxidant support.
Supports circulatory vessel flexibility and elasticity.*
Lemon balm helps soothe and relax the body.*
In powder form.

View Product Label

*These statements have not been evaluated by the Food and Drug Administration. This product is not intended to diagnose, treat, cure or prevent any disease.

Notice: This product contains 200 IU Vitamin E. Not recommended for usage by children, pregnant or lactating women. Do not exceed recommended serving size if you have a bleeding disorder, use blood thinning medications or are contemplating surgery.
Other products you might like