Tatiana
Herbalife Independent Member
Herbalife
674 Chadbourne Court
Harleysville Pennsylvania 19438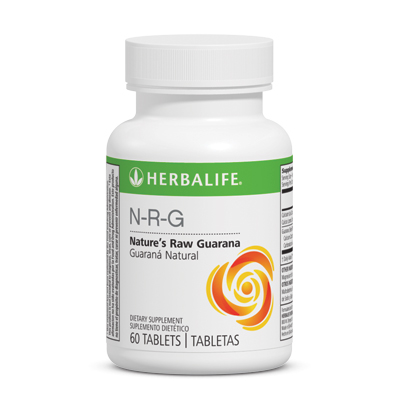 N-R-G Nature's Raw Guarana Tablets
Increase mental alertness
Get a natural pick-me-up with the benefits of guarana in a convenient tablet. Guarana seeds can increase mental alertness and help maintain energy.
Details

Make it through your busy day with a burst of energy from N-R-G. Infused with guarana – an ancient, Amazonian seed with properties similar to caffeine – N-R-G boosts your energy naturally, while helping improve mental alertness.*
Key Benefits
Boost your energy level*
Increase mental alertness*
Take one tablet up to four times per day. N-R-G is also available as an instant tea that can be enjoyed hot or cold.
Guarana contains theobromine and theophylline, two substances also found in chocolate, which have thermogenic and mood-elevating properties.*
Guaranine provides a natural energy lift.
Helps the body achieve and maintain good energy levels.*
*These statements have not been evaluated by the Food and Drug Administration. This product is not intended to diagnose, treat, cure or prevent any disease.