Doria Johnson
Herbalife Independent Member
SL & DV Consultants
9A Scott Road , Papakura
Auckland Auckland 2110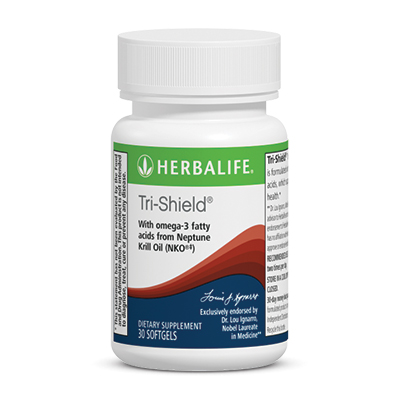 Tri-Shield®
A proprietary formula with 100% pure Neptune Krill Oil
A proprietary formula with 100% pure Neptune Krill Oil (NKO®†), the three heart-healthy compounds in Tri-Shield® help protect your heart.*
Neptune Krill Oil helps support the heart muscle, protect cell membrane health and maintain cholesterol levels already within a normal range.*
Helps maintain healthy cholesterol levels already within a normal range with three heart-healthy compounds.*
Provides powerful antioxidant protection for the heart.*
Take one softgel, one to two times per day.
Omega-3 fatty acids, phospholipids and antioxidants provide a host of benefits, from maintaining a healthy cardiovascular system to maintaining flexible joints.
Krill represents the planet's most abundant animal biomass. Approximately 110,000 tons of krill are harvested every year, or about less than one-half of 0.1% of the existing resources.
Exclusive deodorized formula.
In softgel form.

View Product Label