Lydia Messika Bosnino
Herbalife Independent Member
Wellness3000
Paris
Ville de Paris 75004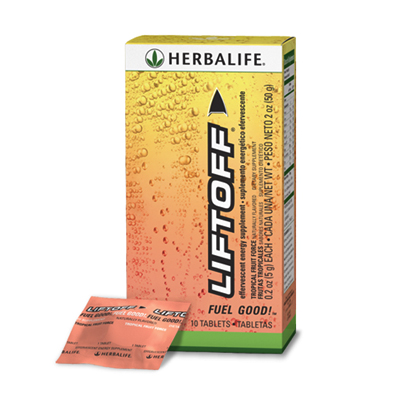 Liftoff®
Fizz. Focus. Fuel Good!™
Increase energy and improve mental clarity for better performance throughout the day with this effervescent energy drink.*
Details
Liftoff® is an exclusive blend of L-taurine, guarana, caffeine, Panax ginseng and Ginkgo biloba clinically proven to enhance mental performance and boost energy. Convenient, pocket-size tablet provides a mind-body boost anytime, anywhere.*
0 sugar, 0 calories, 4 carbs
Stay alert and focused*
Improve short-term memory*
Individually packaged tablets for on-the-go lifestyles
Usage
Just drop one tablet in 8 fl. oz. of cool water and let dissolve. Enjoy 1-2 servings per day.
Liftoff® is a first-to-market effervescent energy drink tablet in the US.
Only Herbalife has been able to develop an energy drink with levels of Panax ginseng and Ginkgo biloba that improved mental performance in clinical tests!*
Convenient, individually-wrapped tablets are perfect for on-the-go use, and they're so easy to sample.
Ideal for Gen H, moms on-the-run, weight-loss customers and older adults who need a mental boost.*
*These statements have not been evaluated by the Food and Drug Administration. This product is not intended to diagnose, treat, cure or prevent any disease.
Other products you might like