Regine FAGES
Herbalife Membre Indépendant
60 rue Fabri de Peiresc , Le Parc des Arceaux A2
Montpellier Hérault 34080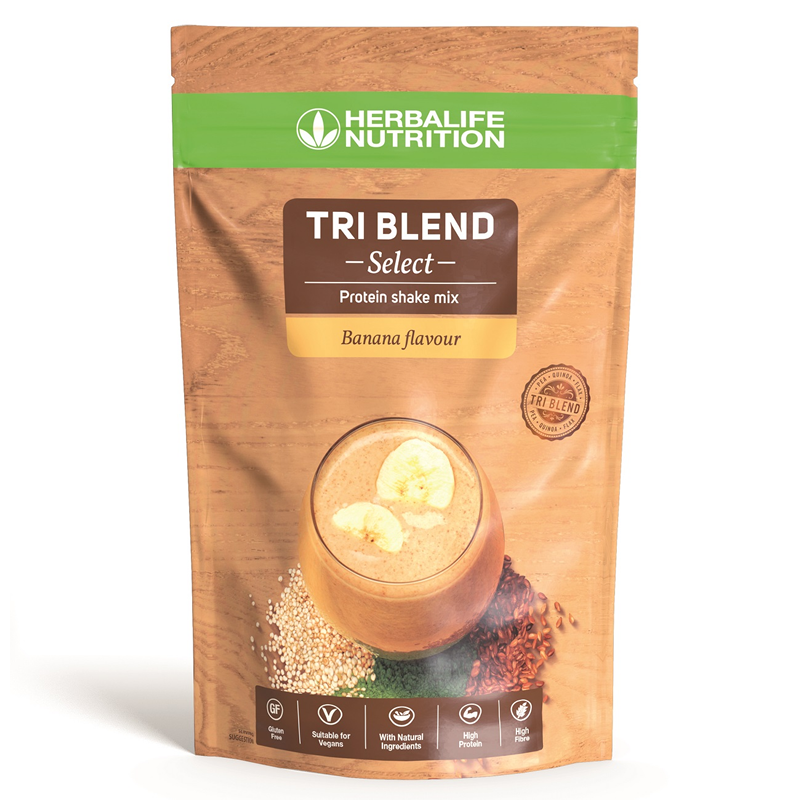 Tri Blend Select
Saveur/ Sorte et contenance:
Overview
Tri Blend Select is a deliciously creamy protein shake with low sugar content that provides natural source nutrition and flavor. We have traveled the globe to find the best productions of each of Tri Blend's ingredients, such as quinoa from Colombia and our flaxseed from Canada.
And unlike other herbal shakes, Tri Blend Select provides optimized nutrition. Vegetable proteins sometimes miss their target because they lack some essential amino acids. Tri Blend Select brings a blend of peas, quinoa and flaxseed, 100% vegetable proteins. It is also high in fiber while displaying a low sugar content.
But do not get me wrong, a low sugar content does not mean that the product has no taste. In fact, we have made every effort to make Tri Blend Select taste delicious and tasty, by choosing natural ingredients.
Main advantages
Contains ingredients from natural sources
151 kcal per serving
20 g of protein per serving, which helps maintain muscle mass.
6 g of fiber per serving
Vitamin C and 7 essential minerals from natural sources
Vegan ingredients, no artificial flavors or colors
No soy, no dairy and no gluten
Usage
Tri Blend can be consumed at any time of the day. Gently shake the bag before use as the contents may become compact. Mix 3 scoops (40 g) of powder with 250 ml of water, with your vegetable drink or with your favorite fruit juice. Change the amount of liquid according to the consistency you want *.
Enjoy after your workout, the perfect drink to recover and reward you for your efforts. A perfect Shake to accompany your salad for lunch. An extra dose of protein, fiber and taste.
Ideal in your preparations - cookies, energy balls, etc. use our recipes to find inspiration. Combine Tri Blend with oatmeal, seeds, berries and yogurt for a personalized, nutritious breakfast.
* Nutritional values ​​will be different if you use fruit juice or other beverage or if you adjust the amount of liquid.