Regine FAGES
Herbalife Independent Member
60 rue Fabri de Peiresc , Le Parc des Arceaux A2
Montpellier Hérault 34080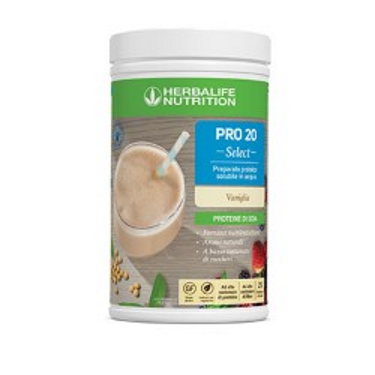 PRO 20 Select - Protein shake to dilute in water
Saveur/ Sorte et contenance:
Overview
PRO 20 Select is a delicious shake rich in protein, to dilute in water and with a low sugar content. It provides key nutrients that your body needs. Each serving contains 20 g protein, 6 g fiber and provides one third of your reference intake (AR) in 24 vitamins and minerals.
Details
Enjoy PRO 20 Select at any time of the day. Shake the box gently before each use as the contents may become compact. Mix 3 scoops (42 g) of powder in 250 ml of water.
Main advantages
20 g of protein per serving, which helps to increase muscle mass.
146 kcal per serving.
Rich in fiber with 6 g of fiber per serving.
30% of 24 vitamins and minerals per serving.
Suitable for vegetarians, gluten-free and dairy-free, and with no artificial sweeteners or flavors.
PRO 20 Select is an ideal snack after training as it helps replenish your nutrient levels.